10 Great Used Trucks for Every Type of Trucker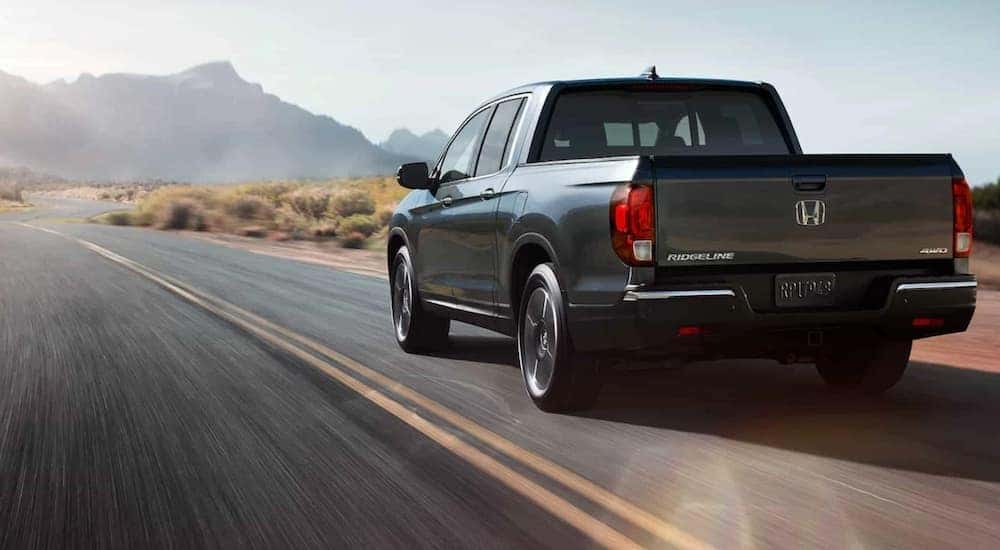 There's a truck out there for everybody. You just have to find the right one for you. Of course, finding the right kind of truck among all the used trucks out there for the price that you want can be extremely difficult. However, it's hard to figure out what exactly fits your lifestyle based on your budget. Do you need a compact truck? A full-size truck? A heavy-duty truck? A luxury truck? Or just a basic pickup? Well, this list will help you narrow down the exact kind of truck based on the kind of driver you are. We have a list of 10 great used trucks for every type of trucker, and you can check out the list below.
Midsize Trucks
Honda Ridgeline RTL-E: Midsize trucks are a great entryway into pickups. They're typically designed to help give you a lot of truck, but with more maneuverability. The Ridgeline is a slick little midsize truck with luxury quality. The RTL-E trim in particular comes with some extra convenience features such as wireless charging, a truck bed audio system, and the premium Honda Satellite-Linked Navigation System. You get a lot of premium infotainment features out of the trim, making it a great pick for those looking for a quality compact pickup.
Ford Ranger Lariat: Maybe the Honda Ridgeline is slightly outside your price range? No problem, the Ford Ranger is here to save the day. If you still want something small to handle but at a lower entry price, the Ranger is a great way to go. The Lariat, in particular, comes with extra Ford Co-Pilot360 safety features and larger wheels than its other trim compatriots. A higher-quality interior and sleek exterior help make the Ranger Lariat an excellent purchase for those who want a quality used Ford truck at an affordable price.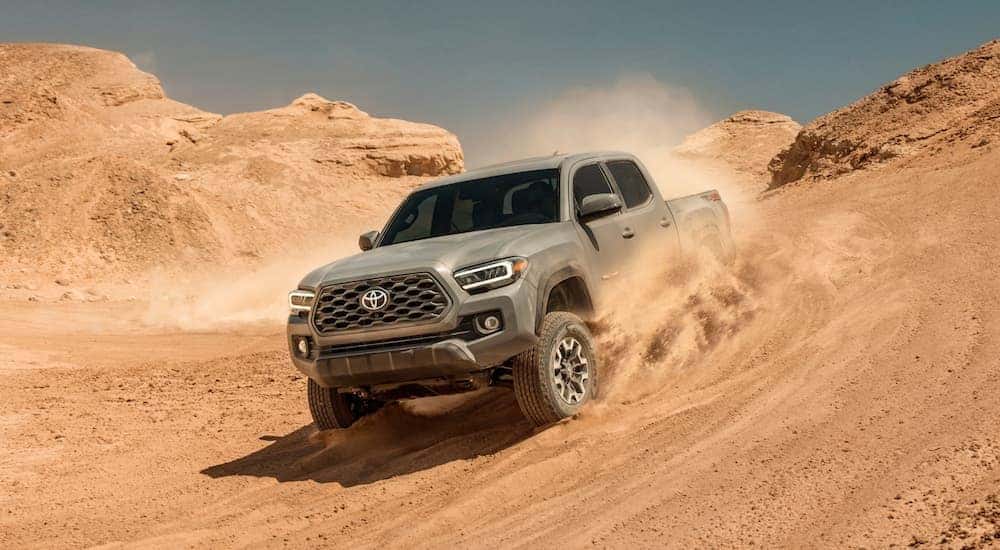 Off-Road Trucks
Toyota Tacoma TRD Off-Road: Toyota doesn't always get a lot of attention for their off-road trucks, but the Tacoma has been offering off-road options since the late 1990s. So Toyota knows a thing or two about making a competent off-road truck. The Tacoma TRD Off-Road trim is specifically designed to handle all your off-roading needs thanks to improved suspension, undercarriage skid plates, and a multi-terrain camera system so you can see everything coming your way from nearly every angle. Affordable, fully-featured, and rugged. What more could you ask for?
Jeep Gladiator Rubicon: The king of off-roading pickups? Maybe. The Jeep Gladiator Rubicon is the pickup truck iteration of the Wrangler Rubicon, featuring everything that the Wrangler does for off-roading but in the format of a four-door pickup truck. Reinforced frame, open-air design, extended wheel travel with all-terrain tires, plus a flexible suspension, the Jeep Gladiator Rubicon is a rarity amongst used trucks but is the perfect solution for those who want an undeniably great used truck designed to tackle every off-road task you could throw at it.
Full-Size Light-Duty Trucks
Ram 1500 Sport: Not into off-roading? No problem. The Ram 1500 Sport is the perfect all-around solution for those who want a great half-ton pickup with excellent towing capabilities and a powerful V8 engine under the hood. Power driver and passenger front seats, new generation Uconnect technology, and plenty of torque make the Ram 1500 Sport an excellent performance-driven pickup. The highlight of a light-duty truck like the Ram 1500 Sport is that it doesn't over-extend the price point with anything extraneous. Everything you need to get the most out of a full-size pickup is available right out of the gate with the 1500 Sport. If you want a pickup with a certain level of masculine appeal, the Ram 1500 is the full-size truck that fits the bill.
Ford F-150 XLT: Maybe you don't need all the noise of a V8 but instead want a slightly more eco-friendly but equally utilitarian full-size pickup? No worries, the Ford F-150 XLT is the perfect solution for you. The XLT is a step up from the XL trim, giving you more options and standard features than the entry-level option. You have access to additional active safety features, a powerful V6, and seating for up to six people with the SuperCrew cab configuration. If you didn't want to spend an arm and a leg on the more expensive trims but still wanted the towing capacity and popular infotainment features made standard, a used F-150 XLT makes for an excellent buy.
Light-Duty Luxury Trucks
GMC Sierra 1500 Denali: Maybe you don't have the budget to buy the newest luxury-oriented full-size pickup brand new. But there's no need to be disappointed because you can still get the most out of your finances and still get what you want with a used truck like the GMC Sierra 1500 Denali. The Denali is the top of the line when it comes to half-ton pickups. The best in seating, interior comfort, cabin materials, technology, and infotainment, the GMC Sierra 1500 Denali spares no expense to offer truckers the most illustrious driving experience that the market has to offer. You want the best used luxury half-ton pickup on the market? The Sierra 1500 Denali is the way to go.
Heavy Duty Trucks
Chevy Silverado 2500HD: Maybe you don't need a compact pickup, and a light-duty truck just doesn't cut it. Maybe you need more utilitarian functionality than what a half-ton off-road truck offers. If everything else on the list isn't your cup of tea, perhaps a heavy-duty pickup is what you're after. If that's the case, the Chevy Silverado 2500HD is the perfect option for you. When talking about great used trucks, you can't exclude one of the best heavy-duty three-quarter-ton trucks from the conversation because the Silverado 2500HD has a long and storied history as a heavy-duty truck that gets the job done. Whether you need to trailer tens of thousands of pounds or pack thousands of pounds into the rear bed, the 2500HD is designed for heavy lifting.
Heavy Duty Off-Road Trucks
Ford Super Duty F-250 Tremor: Sometimes, a trucker needs a reliable pickup that can haul some large loads or trailer some massive cargo, but it has to do so in unforgiving conditions. Maybe you work in a quarry, a forest, or a mountainous area that's off the traditional beaten path. In that case, you don't just need a heavy-duty pickup, you need a heavy-duty pickup that can also go off-road, and in that case, you need something like the Ford Super Duty F-250 Tremor. Paired with a powerful Power Stroke V8 turbo-diesel and massive 35-inch tires, the F-250 Tremor is a functionally rugged heavy-duty pickup with skid plates, off-road running boards, increased ground clearance, and performance shocks. Everything you need to tackle off-road challenges while still carrying out all the heavy-duty tasks that an F-250 is known for. It makes the F-250 Tremor the perfect combination of a work truck and an off-road beast.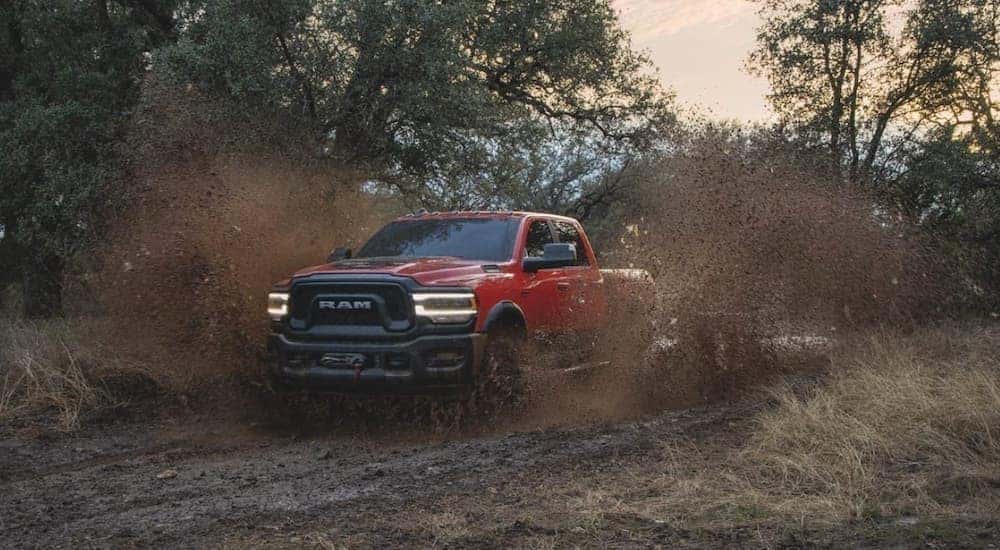 Heavy Duty Luxury Trucks
Ram 2500 Limited: So you've exhausted every other option when it comes to searching for the right kind of truck for you, and you just aren't finding what you're looking for. Is it because you not only want a heavy-duty pickup, but a heavy-duty luxury pickup? Used trucks like the Ram 2500 Limited fit the description perfectly—lots of torque, a great-looking chrome fascia, and tow capacity that allows you to haul some of the largest loads possible for a production-based truck. With trims like the 2500 Limited, you not only get all of the work-truck features and reliability a heavy duty pickup is known for, but you also get a lot of other bonuses. Features like the Infotainment suite, luxury seating, and top-notch cabin material are just some of the options available on this extravagant model pickup. It's the perfect combination of luxury meets heavy-duty functionality.