The 2021 Honda Ridgeline: The Everyday Pickup That's Anything but Ordinary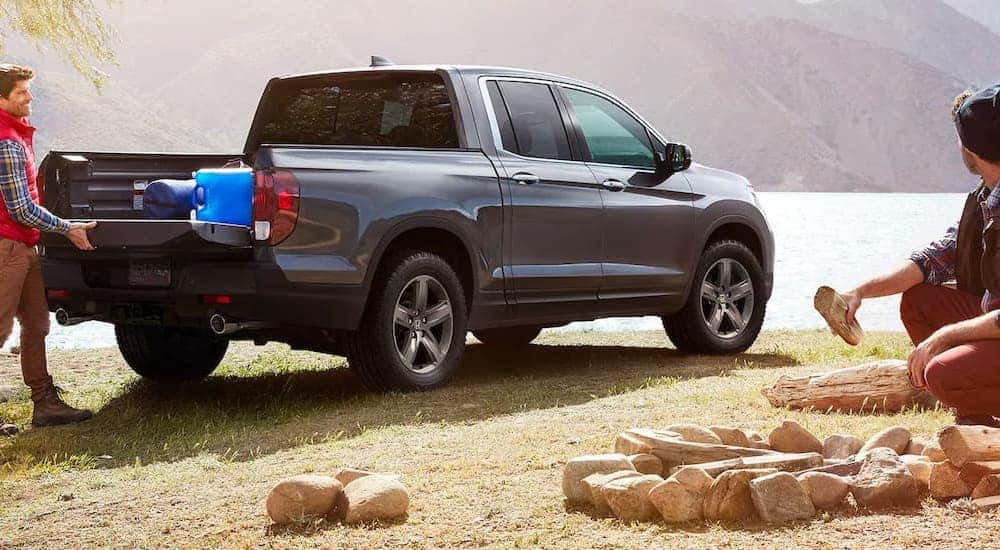 One look at the 2021 Honda Ridgeline, and you'll be able to tell that it's not quite like the other mid-size trucks on the road, and you may be trying to pinpoint exactly what about it makes it so unique. It may be its legendary design that boasts both style and practicality, or maybe it's due to its host of innovative features designed to simplify your travels. At Honda of Newnan, your official Atlanta Honda Ridgeline dealership, we see a lot of truck enthusiasts pass through our doors that are interested in the remarkable appeal of this particular vehicle.
Our team knows that when you want a truck that's unlike anything else on the market, the Honda Ridgeline is it. Marked by an exclusive appearance and showcasing impeccable capabilities, the Ridgeline proves that in order to stand out from the crowd, you have to be willing to break the mold. Let's learn more about why the Honda Ridgeline is a practical and versatile pickup that just so happens to be anything but typical.
Delightful Driveability
You'll find only one powertrain option in this capable traveler, and compared to many of the other trucks in its class, you may be confused as to why there aren't more options. Well, to be honest, the Honda Ridgeline really doesn't need a whole plethora of engine options to choose from because its 3.5L V6 provides everything it needs for a smooth, efficient ride. This lively truck offers up 280 horsepower, which allows it to accelerate quickly and easily. Plus, with its nine-speed automatic transmission and standard all-wheel drive, you can expect to enjoy a smooth, responsive ride. You'll be happily surprised at its agile performance the moment you hop into the driver's seat and take it for a test drive, causing you to understand just why the Ridgeline doesn't need a whole gamut of powertrains to make it completely awe-inspiring.
The 2021 Ridgeline makes your choices easier by not having to decide between various engines, power, and capabilities. And in a world full of unimaginable choices, it's a breath of fresh air to finally have some simplicity. You'll also be happy to know that the Ridgeline has one of the most fuel-efficient V6 engines in its class, getting up to 18 MPG on city streets and 24 MPG on the highway, adding even more to its already impressive appeal.* Although it's not quite as strong as some of the other trucks in its class when it comes to towing, it is a capable hauler, able to accommodate just under 1,600 lbs of payload, which is in line with others similar to it, like the Chevy Colorado.
With a refined ride and extreme practicality, it's no wonder why more and more drivers are choosing the Ridgeline to add more value to their travels. Not only are you able to enjoy a smooth ride, you also get to take advantage of incredible efficiency, as well as enough capabilities to help you complete your tasks without hassle. When you're looking for the ultimate everyday pickup, the Honda Ridgeline is among the most practical options on the road today.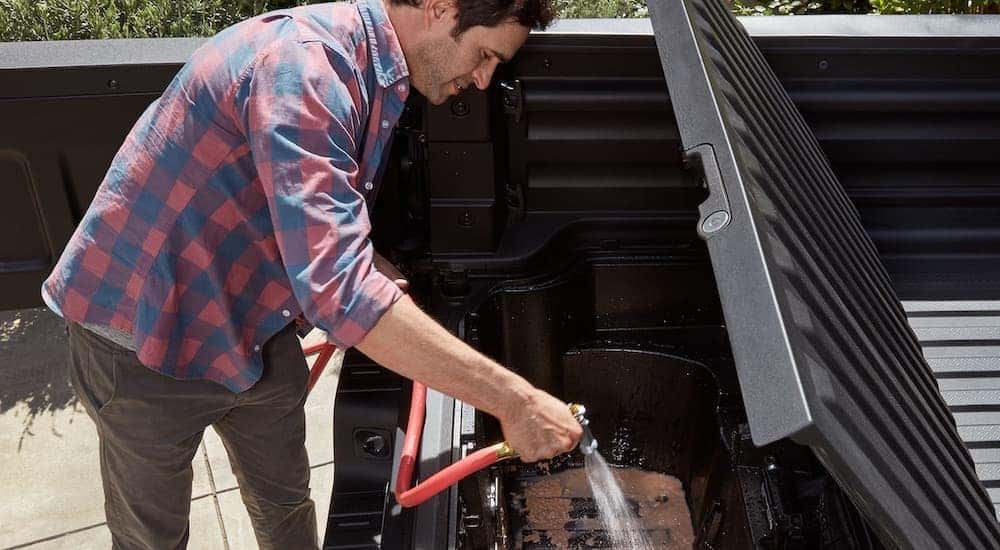 Ingenious Features
Speaking of practical, the Honda Ridgeline doesn't stop with its capable ride. It also offers up some of the most ingenious features, designed to add more functionality to your day, like its lockable In-Bed Trunk to make storing your valuables easier and safer than ever. For many truck lovers, it's a necessity to be able to haul important belongings and be able to trust that they won't be nabbed from your truck bed when you're not looking, and now with the Ridgeline's innovative locking trunk, you won't have to worry.
Its lay-flat truck bed also allows you to handle more. It's able to accommodate more cumbersome loads with ease, which makes the Ridgeline a go-to choice for those who need increased capacity in their truck. Combined with an industry-first dual-action tailgate, you're able to customize your truck to match your load so that no gear gets left behind and no task is left undone. Simply adjust the tailgate to your specific needs and get the job done without compromise. Few trucks offer this type of advanced innovation, making the Ridgeline a step above the competition.
The 2021 Honda Ridgeline also received an upgrade this year with its infotainment system, which is now easier to use than ever and, not to mention, more intuitive. If you're looking for even more ingenious features, try upgrading your Ridgeline to feature an in-bed audio system to make the day more enjoyable, whether you're entertaining friends or working hard at the job site. Another industry-first, this in-bed system showcases a premium sound that resonates right from its bed walls to add to your experience on the road or off. As you can see, the Honda Ridgeline is full of industry-first features that you can't find in many other options in its class, making it not only pleasantly practical but highly functional as well. When you want to upgrade your day, the Ridgeline can make it happen.
Thoughtful Design
You may not think that a pickup truck can be as comfortable as a luxury car or SUV, but the Honda Ridgeline is about to change your mind. Its spacious interior emanates a completely heightened experience from its ample legroom to its refined appointments throughout. With clever features found within, you're able to maximize your ride, whether you're accommodating plenty of passengers or bulky gear and materials for work. Its 60/40 split-folding lift-up rear seats and its handy in-bed lockable trunk that we discussed earlier allow for more room in its interior to handle bigger items. With room for up to five, you'll see just why more drivers are choosing the Ridgeline above all others.
Its thoughtful design extends far beyond its interior cabin, as the 2021 model showcases a restyled body and overall sculpted appearance. A bold new front-end design paired with dual chrome exhaust tips and bulkier tires makes the 2021 Ridgeline more intense. And with its sophisticated features on the inside, including a stunning moonroof, heated front seats, and upscale appointments, the result is one that will thrill you. Upgrade to the HPD Package for more bold elements, like fender flares and newly introduced bronze wheels, or choose from its special editions to make your Ridgeline more your own.
From the newly designed fenders right down to the stitching in the seats, the 2021 Honda Ridgeline has been restyled to showcase its spectacular appeal. No other pickup truck is able to offer you the experience that the Ridgeline can. As we continue to find neat elements throughout this versatile machine, we remain intrigued by its unique appeal. If you want a pickup that delivers a responsive ride and practical features to make your day better, on top of an expertly crafted interior with loads of space, the Honda Ridgeline is ready to blow your mind.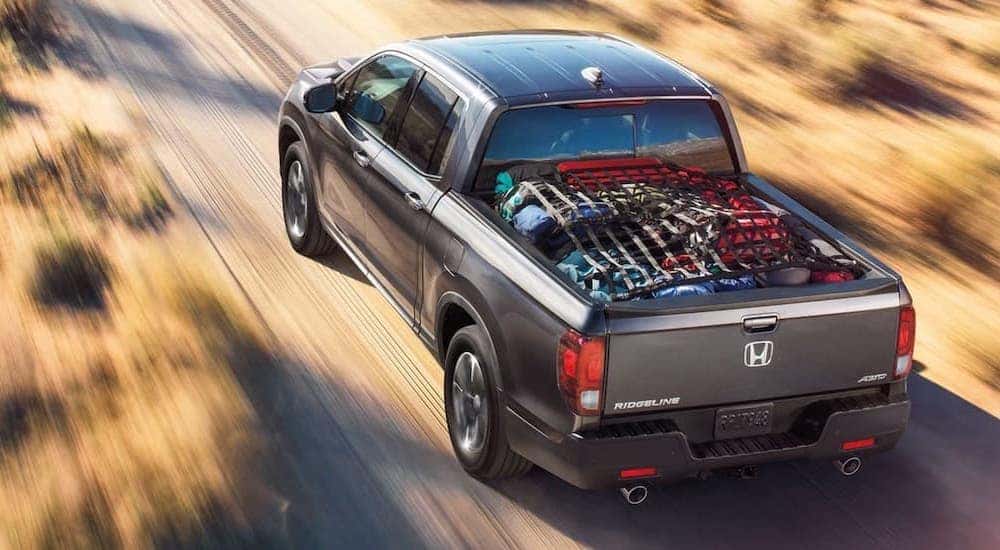 Go Beyond Ordinary
When you're driving the 2021 Honda Ridgeline, you can expect an experience that surpasses everything you thought possible. Here at Honda of Newnan, our team can't wait for you to discover all that the Ridgeline has to offer to make your travels better. With our excellent selection and knowledgeable team, we're confident that you'll find what you're looking for on our lot. Stop by for a test drive of the 2021 Honda Ridgeline and take in all of the features designed to upgrade your experience behind the wheel. If you want a truck that offers more, the Ridgeline is it, and if you want a dealership that can help you find the truck you need, Honda of Newnan can help. Contact us or stop by today!
---
* 18 city/24 highway/21 combined mpg rating. Based on 2021 EPA mileage ratings. Use for comparison purposes only. Your mileage will vary depending on how you drive and maintain your vehicle, driving conditions and other factors.