The 2022 Honda Civic: Facts and New Features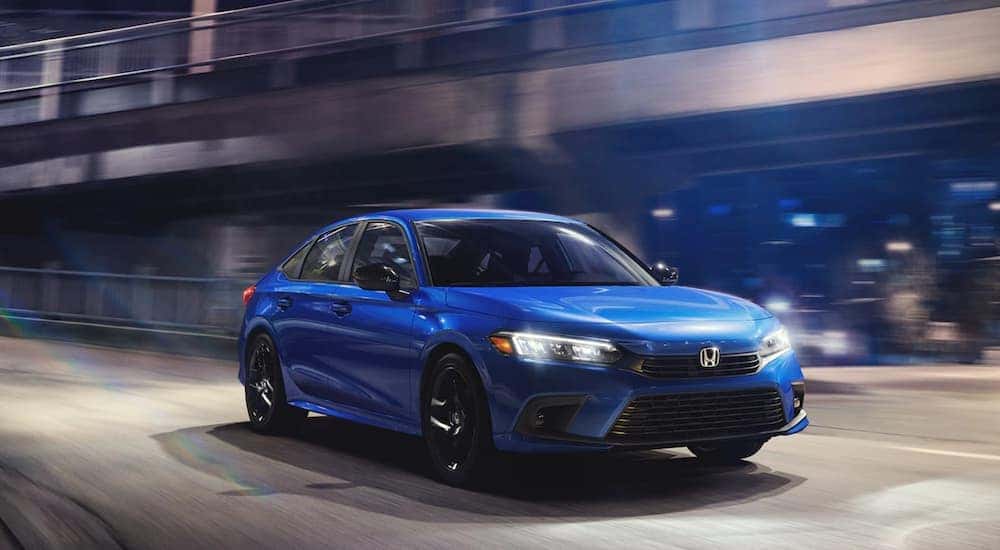 The Honda Civic is one of the longest-running and most recognized models in the compact car market. Honda has done a fantastic job keeping the Civic updated, modern, and relevant. The Civic is more than just a car that will serve you well on your daily commute for years to come; it is also a fun and exciting vehicle that will have you enjoying your weekend adventures. The 2022 Honda Civic promises to be an engaging and economical ride, and it marks the beginning of a new generation. The 11th generation Civic features everything you want in a sedan, including a sporty design, advanced technology, and powerful drivetrain options. If you haven't been paying attention to the evolution of the Honda Civic, now is an excellent time to check this car out. Honda of Newnan, your 2022 Honda Civic dealer, offers a few features and facts about the all-new Civic.
A New Small Car Option
The Honda Civic was introduced to the American market in 1973, and it gave Americans a new small car option that offered very impressive fuel economy and the ability to seat four passengers. Older drivers will remember that the Civic was introduced amid a global oil crisis that had Americans seeking more efficient alternatives to the gas-guzzling sedans of the day. From its humble beginnings, the Civic was already a car that fit the times.
The 1980s was a bigger and sleeker Civic, which offered more power than previous models. There was also the addition of the Fuel Economy (FE) trim, which would boost fuel economy to impressive heights. In addition to a new sporty S trim, the Civic was also offered as a four-door sedan, five-door wagon, and three or five-door hatchback.
Honda would continue offering the sedan and hatchback models through the 1990s, but Honda would make the Civic wider and longer. Horsepower would continue to climb as new powertrain options were introduced. A new millennium would see even more updates and changes to the Civic, including the introduction of a hybrid variant as well as upgrades in performance and design. Now, 2022 will see even more changes to the beloved Honda Civic.
What's New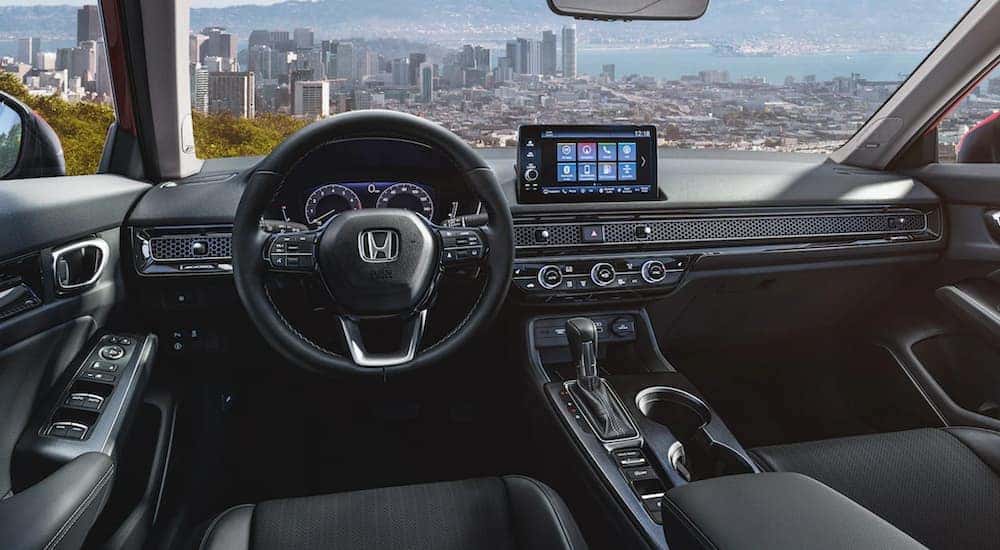 When you enter a new generation for any model, you can expect several new features in addition to upgrades. This holds especially true with the 2022 Honda Civic, as there are more new features kicking off the 11th generation than Christmas gifts under the tree at the home of the Brady Bunch. In order to remain relevant in today's hotly contested auto market, you must deliver a modern vehicle with modern features.
The new Civic comes standard with a 7-inch touchscreen with Apple CarPlay and Android Auto integration. While this is an available option for many models, 2022 Civic owners enjoy it as standard equipment. If a 7-inch touchscreen won't cut it for you, a larger 9-inch touchscreen is also an option. The Touring trim even enjoys an all-digital LCD instrument display, which measures an impressive 10.2 inches, and all of the display information is customizable from the steering wheel.
The Touring trim also features a Bose audio system, the first time a Bose setup has been installed in a Civic. What makes this feature so thrilling is that the new system was custom-engineered specifically for the Honda Civic, making your music experience genuinely remarkable. No fewer than twelve high-performance Bose speakers are strategically placed throughout the interior for optimal music reproduction.
Honda has also updated the two 4-cylinder engine choices, giving the new Civic more power than the outgoing model. The 2.0-liter is standard in the LX and Sport trims and kicks out 158 horsepower and 138 lb-ft of torque. The EX and Touring trims feature a standard 1.5-liter turbo engine that spits out 180 horsepower and 177 lb-ft of torque. Both engines are paired with an improved CVT. As expected, even though the engines produce more power than previous versions, they are more fuel-efficient than ever.
If you wonder how well the Civic rides, Honda made upgrades to ensure a fun and comfortable ride. The updated suspension and steering improves both handling and ride comfort. The new Civic also has a more rigid body structure, and this stiffer structure goes a long way in improving ride comfort and handling.
Interesting Facts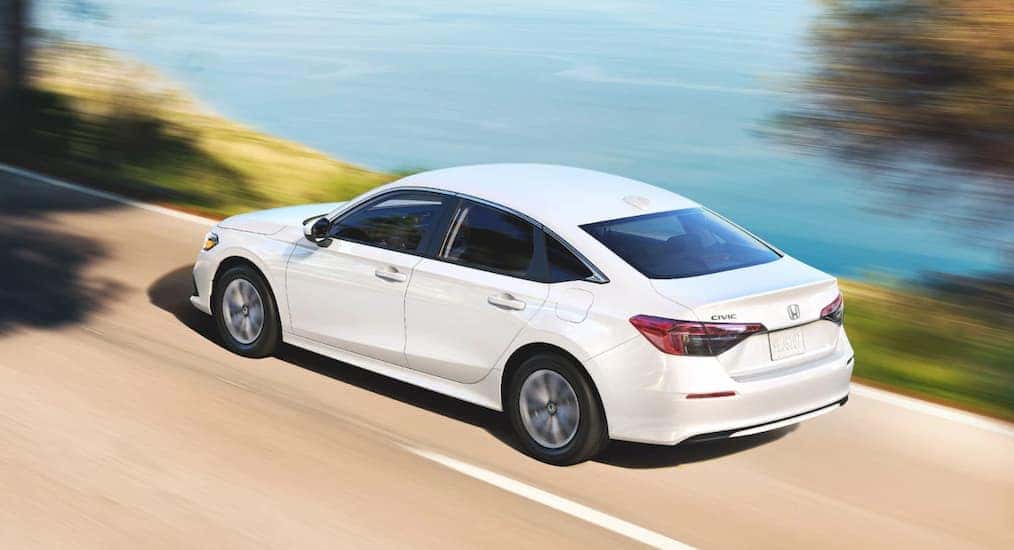 Buying a new car is a significant investment, so you will want to ensure you are getting your money's worth. Fortunately, the Honda Civic has always had a reputation for being a very reliable car, one that will give you years of faithful service. You don't need to take our word for it – year in and year out, the Honda Civic ranks at the top of the reliability lists.
The Honda Civic is also a very safe car, offering advanced features to help keep the driver and passengers safe. The 2022 Honda Civic will be arguably the safest Civic to date. Honda cares about its customers, and it shows with the added safety features that come with the all-new Civic. Airbags are a common safety feature, but Honda took the extra step of designing a new donut-shaped driver airbag to reduce head trauma. Other safety and driver-assist features include rear-seat airbags, blind-spot alert, and road sign recognition.
Honda introduced the Variable Timing and Lift Electronic Control (VTEC) system in 1989, making Honda's small engines very efficient. Better still, the VTEC system also helps deliver better performance. Over the years, Honda has provided increasingly more reliable and efficient VTEC engines under the hoods of the Civic, and the technology can be found on both engine options for the 2022 Civic.
Is the 2022 Honda Civic Right for You?
After reading about the history and great features that the Honda Civic offers, you might wonder if it is the right car for you. If reliability and dependability are essential, then it will be a good fit. But there are more reasons why the Civic is right for you. Thanks to a diverse array of trim levels, finding the Civic that best suits your needs is relatively easy. You really can't go wrong with any trim level you choose. Even the low-level trims offer plenty of features and are a great value. No matter what you are looking for in a car, the Honda Civic can do it.
Honda is one of the most popular automakers today, thanks largely to its advanced technology and ability to produce vehicles that stand the test of time. If you are ready to test drive a new Honda Civic or any other model, Honda of Newnan is here to help. When you pay us a visit, you will be impressed by our vast selection. There are a lot of dealerships out there trying to get your business. But we understand that nobody wants to be lured in with gimmicks and smoke-and-mirrors sales tactics; they want a dealership with a strong commitment to customer service and satisfaction. And that is precisely what you will get here at Honda of Newnan.
We promise a shopping experience like no other, and we promise a car-buying experience that is pleasant and hassle-free. We understand that our success is in repeat customers, and we do our absolute best to ensure you will want to come back and see us again. Our excellent service doesn't stop when you drive off of our lot; we are here for the duration of your vehicle ownership. We offer a Honda service center staffed by well-trained and knowledgeable technicians who will get the job done right the first time. Whether your Honda needs routine maintenance or repairs, we make it happen without a fuss. So contact us or stop by Honda of Newnan today and let us help you get behind the wheel of your dream Honda.