The Honda Pilot Throughout the Years: 4 Must-Have Features Drivers Love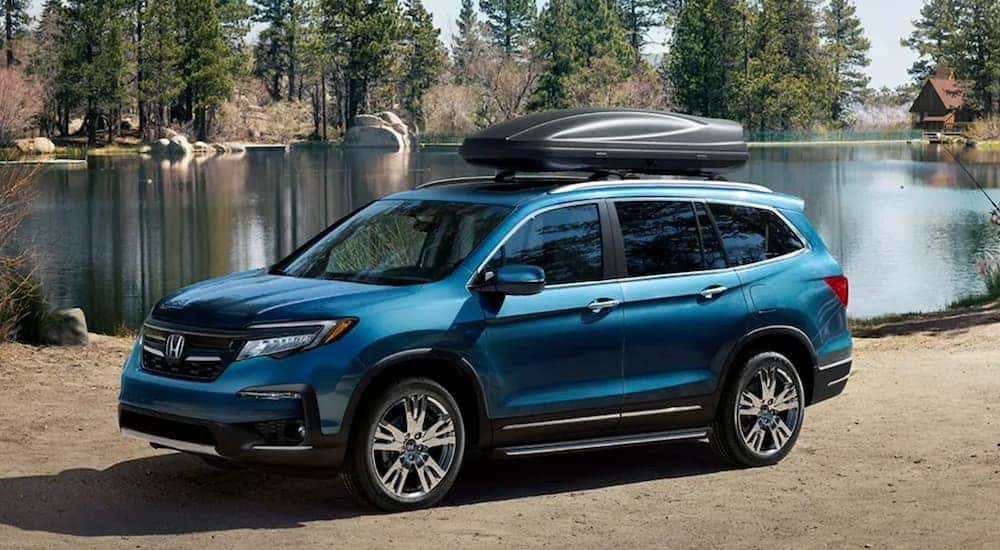 Spacious, large, but still stylish, the Honda Pilot is this Japanese auto brand's more youthful alternative to the Odyssey family van. Rather than sacrificing aerodynamics and thrills in favor of child-friendly cabins, every Pilot is actually fun to drive. If you're looking for a practical yet energetic vehicle, consider a used Honda Pilot. However, there are a few things you should know before you take home a used Honda for sale from Honda of Newnan.
Namely, you should know what features to look for. While the Pilot maintains a recognizable design every year, it has been through several generations and redesigns. Plus, Honda's commitment to innovation at low prices means that more recent model years will feature significant upgrades. Add to that the available equipment and diverse trims every year, and you have a huge variety of options to consider.
Whether you want a comfortable ride for road trips with your family, a cargo-friendly commuter vehicle, or just a fun drive at a great price, a used Pilot is sure to satisfy. This guide can help you determine what to look out for. Here are the top four features you may find appealing in a used Pilot.
#1 Spacious Cabin
A benefit that has been there throughout the years, every Honda Pilot has a roomy cabin capable of seating up to eight. This three-row, full-size SUV shares a platform with the larger Honda Odyssey minivan; however, the Pilot isn't quite as bulky. It also lacks the minivan's sliding doors and ample back legroom.
That being said, you can easily seat eight adults thanks to a smart cabin design. Each row feels larger than its sleek exterior body would let on. Plus, if you find a model in the Touring, Elite, or Black Edition trim, you'll enjoy second-row captain's seats. These trims offer seating for seven and two rows of ergonomic seats, plus easy access to the third row.
Of course, a Pilot is no major sacrifice. You can still utilize up to 109 cu.ft. of cargo space in the 2020 model. Exact figures will vary depending on the model you find, but every Pilot has ample space optimized for storage. You'll have the freedom to carry on your luggage, sports equipment, work supplies, and more.
Also, cargo-friendly equipment is available across all model years. These include two rows of storage cubbies, a second-row center console, and an adjustable floor with hidden compartments. Over a dozen cupholders and upright storage trays are sure to please. A one-touch seat folding mechanism, meanwhile, improves the passenger experience and cargo storage alike. As for model years 2018 and up, a hands-free power tailgate improves access to the cargo bay. Even better, the Honda Pilot has a consistently generous base model, rather than locking most features to paid upgrades. This means that many of the above features should be easy to find at your local used Honda dealer.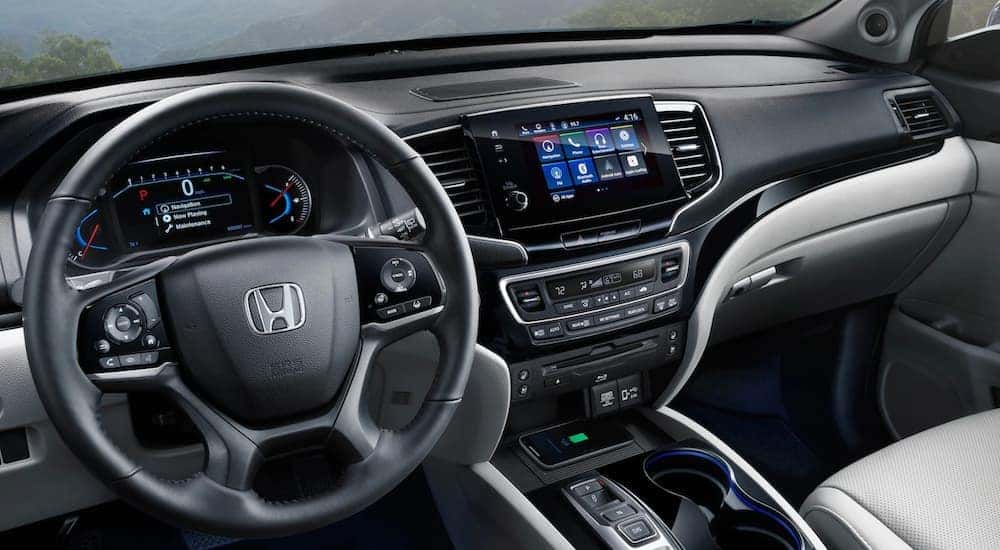 #2 Interior Comfort
On the topic of Pilot cabins, these Honda SUVs have lush cabin features that never disappoint. It doesn't just take space to make a great SUV, after all. Features and available equipment vary by year, but some favorites include multiple USB charging docks. Soft-touch surfaces, intuitive switchgear, and ergonomic control layouts make every drive relaxing.
Cabin designs also change each year but remain consistently on-brand. The Pilot is known for its balance of family-friendly charm and pleasant simplicity for a modern ambiance. There's no clearer case of this than the infotainment system available for models since 2009. It features a colorful display, touch controls, easy buttons and knobs, and an available, compatible rear HD entertainment system. For enhanced tech, seek out a 2020 model with ambient cabin lights, a Wi-Fi hotspot system for work and play on the go, heated and ventilated seating in the first two rows, and more. To enhance comfort, consider a Touring, Elite, or Black Edition trim for its refined materials—like genuine black leather.
As you explore the used Honda Pilot, you'll see a wide range of interior designs. Consider simple neutrals in the 2009 base model or the refined, sporty, and sophisticated Black Edition of recent model years. If you find a recent Pilot, look for cutting-edge features like in-cabin PA technology. This vocal system eases communication with the back rows of seating.
The Pilot's balanced design and ride height enable perfect views from the captain's seat. Plus, perfectly designed window pillars allow clear views of your blind spots—no neck craning necessary. Supportive, ergonomic seating encourages both relaxation and focus while you drive—no matter how far you drive.
#3 Standard Safety Features
In an auto world plagued by hidden upcharges and lousy base models, the Honda Pilot is certainly refreshing. Year after year, Honda has outfitted the Pilot with ample safety technology. No need to invest in a top-tier trim just to travel safely.
It's a consistent winner from the National Highway Transportation Safety Administration, which gave the 2020 model 5 stars.[a] Also, several models have been awarded Top Safety Pick by the Insurance Institute for Highway Safety.[b] These include the 2019 model year, which has been celebrated for smart tech like collision mitigation.
Honda Sensing, a suite of advanced, active safety technology, has improved with every passing year. Explore recent-year models for incredibly supportive features like automated emergency braking. Lane departure warning and lane keep assist guide you as you drive, while smart adaptive cruise control responds to road conditions. Even better, a sturdy body frame and a suite of airbags can protect you—and your passengers—in the event of a crash.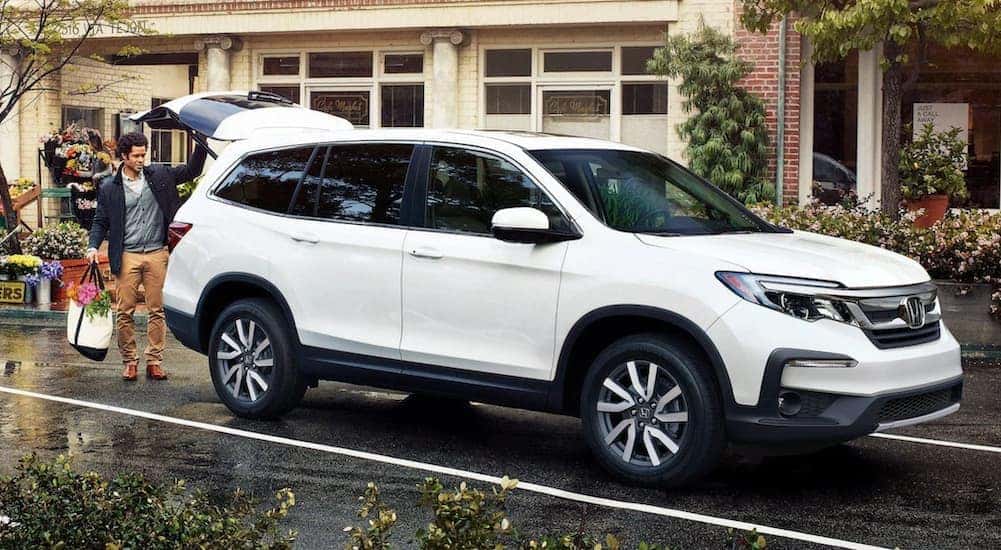 #4 Reliable Drive
The Honda Pilot is consistently the more agile and fun-to-drive alternative to the Odyssey. As such, each model features a pleasant ride quality with a quiet cabin. Model specs vary by year and build, but some standouts from recent models are as follows:
The 2020 Honda Pilot features agile handling and an impressively tight turning radius. Unlike other full-size used SUVs for sale, this Pilot can easily weave through tight parking spots and busy highway traffic.
The 2020 Touring model, meanwhile, includes a 280-horsepower V-6 engine with nine-speed automatic transmission. It's responsive, quick, and fuel-conscious all at once. Light steering responds instantly to your commands, so you retain control and focus.
Based on the model year and build, a Honda Pilot can tow as much as 5,000 pounds! When a small SUV doesn't have the strength or capacity to haul your travel needs, a Pilot is sure to satisfy.
Even a model year as far back as 2009 has competitive fuel ratings thanks to fine engineering, including variable valve timing and lift electronic control (i-VTEC) valvetrain technology, alongside variable cylinder management (VCM). These engines are supremely designed to feel powerful when you need them to. However, they reserve fuel at a rate superior to most minivans and competing full-size SUVs.
Find the Right Pilot for You at Honda of Newnan
While the Honda Pilot has varied throughout the years, one thing remains the same: Honda's value proposition. Hondas are consistently low-cost, long-lasting, low-maintenance vehicles that provide excellent quality. You get even more for your buck when you shop used.
If you want to shop for the best Honda Pilot—with features you need and will love—shop Honda of Newnan today. Located in Newnan, GA, we are the Greater Atlanta Area's number-one stop for all things Honda. We promise to carry a wide selection of Honda vehicles, including Pilots and other Honda favorites. Stop by today to test drive a model and learn about the features of each vehicle in our inventory.
Get the best price and financing assistance once you find the Honda vehicle you wish to take home. We'll value your trade-in, introduce you to our ongoing Honda service center, and more. Then, choose from one of our outstanding warranty and protection packages to safeguard your investment. You could take home a Honda Pilot today! To get started, contact us or visit our Newnan, GA, dealership now.
---
[a] The 2020 Honda Pilot was given a 5-Star Overall Safety Rating from the National Highway Traffic Safety Administration (NHTSA). For more information, visit the NHTSA website. The NHTSA is a registered trademark of the U.S. Department of Transportation.
[b] The 2019 Honda Pilot was named a Top Safety Pick by the Insurance Institute for Highway Safety (IIHS). For more information, visit the IIHS website. The IIHS is a registered trademark of the Insurance Institute for Highway Safety, Highway Loss Data Institute.